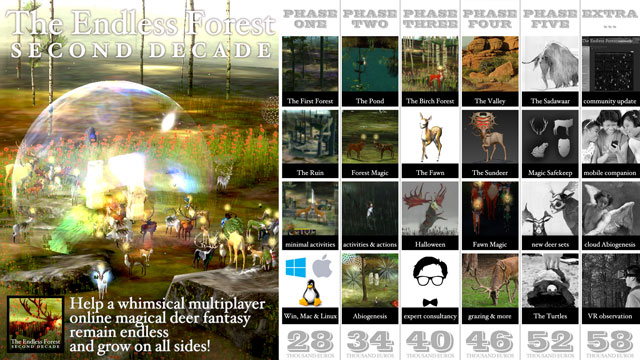 Thank you for having contributed to the remake of The Endless Forest by donating here on top of the initial IndieGogo campaign where you can find information about the project.
The Endless Forest is an online multiplayer game that is completely free. The Endless Forest is a peaceful environment without chat or missions or competition. A place where everyone can connect with others without being bothered by age, gender, language, social background or political orientation. An experiment with community beyond human limitations and grounded in the simplicity of wonder and joy. Since the launch in 2005, The Endless Forest has fostered an active community of sensitive and intelligent players. To continue this community and the expansion of the game, new technology is required. That is why we are remaking The Endless Forest in a new engine.
We regularly make builds of the work in progress available to all backers. Some perks (such as the appearance of the avatars) can be carried over to the currently active game.
You can follow the production on the development log where we regularly post updates on the progress of the remake.
€ 51034 EUR raised by 1125 backers


128% of € 40000 EUR